Welcome to Green Beanie Books (Ireland), where you can buy your copy of our first release, "Melvin The Friendly Bedtime Monster".
About Us
Created by husband and wife team Seanie and Deirdre Morris, it is an outlet for stories to sparkle in the imaginations of children. They want to share their passion for story telling, not only to their own children, but to yours too. Their first release, Melvin The Friendly Bedtime Monster has proven to be a popular title. This title is available as a standard version, and as a personalized gift (read more here).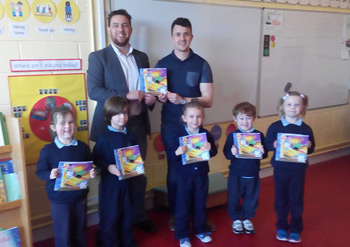 Latest News
Read from our News Archive different events that have happened since we started this past Summer!
Melvin has gone to school!
With midlands schools buying copies for their school libraries and literacy tables, and interest to stock the book nationwide by International Education Services Ltd., Melvin has found his way into the classroom. Click here to find out more.
Do You Have A Story To Tell?
Green Beanie Books (Ireland) promotes itself throughout Ireland, and is open to suggestions for future projects. Green Beanie Books (Ireland) is also on the look out for writers wishing to have their works published. If you have a story to tell, then please get in touch!